Plastic Surgery Innovation Series
Join us for the sixth webinar in the Plastic Surgery Innovations series, Fill the Gas Tank and Map the Road Ahead on Wednesday, Sept. 2 at 7 p.m. CDT.
Featuring guest speaker, Michael Bates, Independent Financial Executive, Angel Investor and Advisor, this session will cover what you need to know to sucessfully finance your innovation.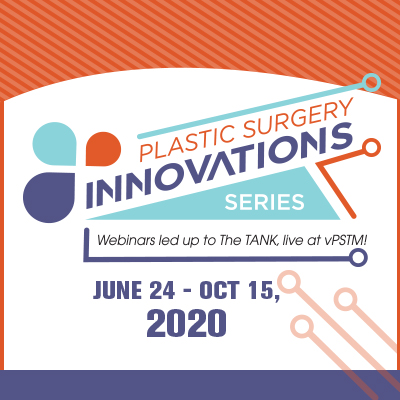 Ideas and passion may be drivers, but when it comes to innovation, money is the fuel. In today's world it takes money to get great ideas off the ground and turn them into reality. However, where does that money come from and how do you protect it — and yourself — in the process?
This Plastic Surgery Innovations series episode will cover:
Raising money (grants, FFnF, angels and angel networks, venture, family office, equity, IPO)
Raising money (debt vs. equity)
Debt examples
Equity samples
Understanding cap tables and protecting your hard work
Employment and compensation
The series is free to ASPS members, and available to non-members for a low one-time cost of $150! Register only once and participate in as many webinars as you'd like and access the recordings at your convenience. The sessions will be recorded and available on-demand at ASPS EdNet.
The TANK
Do you have an innovative idea, product or service that could impact the future of plastic surgery?
Compete in The TANK on Oct. 15, where plastic surgeons will pitch their innovations and battle it out to be awarded Top Innovator of 2020 – and win $10,000 to kick start their pitch into reality!
All applications will be reviewed by the Plastic Surgery Innovation Committee. Finalists will be selected by the committee and asked to complete a more in-depth application prior to final selections. Once the committee has made final selections, contestants/teams will be:
Assigned a "coach" from the committee to assist them through the process of preparing for The TANK.
Given a few weeks to work with their assigned coach to create their innovation pitch for The TANK.
Provided with the same pitch deck template that they are expected to use as a baseline for their presentation.
Assigned presentation time to pitch their product/service/idea in The TANK on Oct. 15 starting at 7 p.m. CDT.
Assessed by a panel of judges with experience in plastic surgery innovation who will then select the Top Innovator of 2020 and award the $10,000 grant.
There is no fee to submit an application and no limit to the number of entries. Entries must be from ASPS members to qualify for review. All applications must be received by Sept. 14, 2020.
The top innovator of The Tank is eligible to receive a $10,000 grant to help in the development of their innovation and/or company. Prior to distributing the grant, an agreement with the top innovator will be established such that if the innovation and/or company ultimately receives net income from the technology, the grantor will receive a revenue share up to 5 times the amount of the grant. A mutually agreeable term sheet that describes the calculation, payment and timing (e.g., so not to be deleterious/onerous to the new company) of any revenue share will be drafted between the top innovator of The Tank and grantor.
Webinar Series Schedule
The Plastic Surgery Innovations Series is a webinar program featuring timely topics with lively panel discussions and how-to segments hosted by Howie Levinson, MD. The sessions will run every other week until Plastic Surgery The Meeting – where The TANK happens live and innovators battle it out to receive the Top Innovator of 2020 Award!
All webinar times are 7 p.m. Central time.
The Future of Fillers: Reshaping the Aesthetic Landscape (June 24)

Bronze level support by MTF Biologics

Taking the First Big Step: Making the Baby (July 8)
Who's Winning the Fat Wars? (July 22)
Focus, Focus, Focus & Teamwork in Entrepreneurial Companies (August 5)
Making Augmented Reality a Reality in Plastic Surgery (August 19)
Fill the Gas Tank and Map the Road Ahead (September 2)
Growth and Adaptability: Keys to Dynamic Performance (September 30)
The TANK - Live voting and results! (October 15)
The Plastic Surgery Innovation Series is supported at the Gold level by: