Residents Bowl
Saturday, September 29, 2018
Opening Round I: 9:30 – 11:00 a.m.
Opening Round II: 3:00 – 4:30 p.m.
Sunday, September 30, 2018
Second Round: 9:00 – 10:30 a.m.
Finals: 3:00 – 4:30 p.m.
McCormick Place West
One Plastic Surgery Residency Program will unseat the 2017 winner, University of Washington, at this one-of-a-kind event, as residents answer questions on case studies and the core curriculum of plastic surgery.
Winners of the tournament will have their names engraved on a nearly two-foot tall silver trophy and earn year-long bragging rights.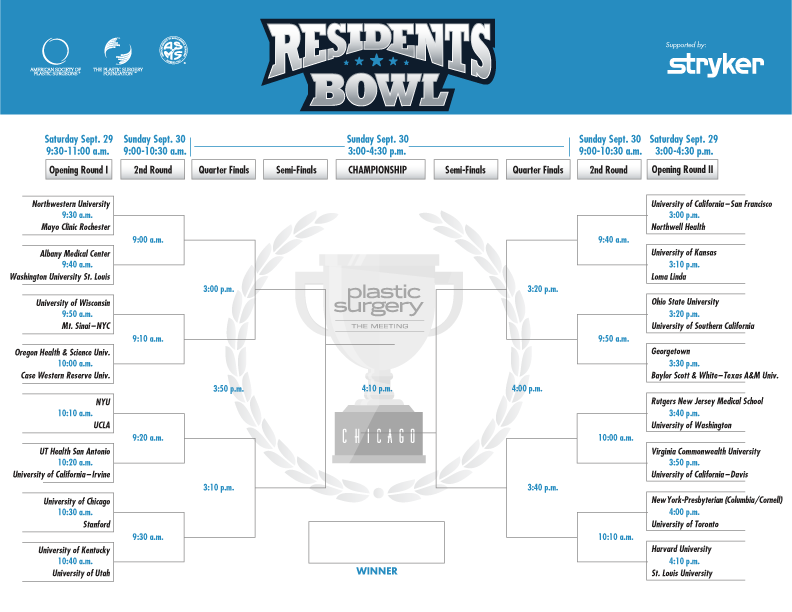 All of the Resident Bowl brackets have been filled. The following plastic surgery training programs have claimed the 32 available spots in the 2018 Residents Bowl:
Northwestern University
Mayo Clinic Rochester
Albany Medical Center
Washington University St. Louis
University of Wisconsin-Madison
Mount Sinai-New York City
New York University
Oregon Health & Science University
UCLA Health
Case Western Reserve University
University of California, Irvine
UT Health San Antonio
University of Chicago Medicine
University of Kentucky
Stanford Plastic Surgery
University of Utah
Loma Linda
University of California, San Francisco
Northwell Health
University of Kansas
Ohio State University
University of Southern California
Georgetown
Rutgers New Jersey Medical School
UMass Plastic Surgery
The New York-Prebyterian (Columbia/Cornell)
Baylor Scott & White - Texas A&M University
University of Washington
University of Claifornia, Davis
University of Toronto
Harvard
St. Louis University
To be added to the waitlist, email the following information to jhigham@plasticsurgery.org:
The name of the institution your team will be representing
The names of all team members (no less than 2, no more than 4)
The email addresses for each team member
May the best team win!
---
Previous Residents Bowl Winners
2017: University of Washington
Tamara Kemp, MD; Erin Miller, MD; H. Elise Min, MD; Eugene Oh, MD
2016: Southern Illinois University
Shawn Mendenhall, MD; Ryan Schmucker, MD; Chelsea C. Snider, MD
2015: Ohio State University
John Hulsen, MD; Ibrahim Khansa, MD; Joseph Meyerson, MD; Stephen Poteet, MD
2014: Ohio State University
Tyler Angelos, MD; Joseph Brown, MD; Ibrahim Khansa, MD; Cain Linville, MD
2013: University of Texas Southwestern
Huay-Zong Law, MD; Craig Lehrman, MD; Purushottam Nagarkar, MD; Jacob Unger, MD
2012: University of Texas Southwestern
Bridget Harrison, MD; Michael Lee, MD; Craig Lehrman, MD; Jacob Unger, MD