Residents Bowl
Friday, September 20, 2019
Opening Round I: 9:00 – 10:30 a.m.
Opening Round II: 3:00 – 4:30 p.m.
San Diego Convention Center


Saturday, September 21, 2019
Second Round: 9:00 – 10:30 a.m.
Finals: 3:00 – 4:30 p.m.
San Diego Convention Center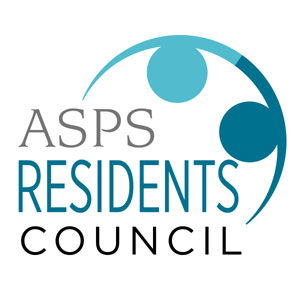 One Plastic Surgery Residency Program will unseat the 2018 winner, UT Health San Antonio, at this one-of-a-kind event, as residents answer questions on case studies and the core curriculum of plastic surgery.
Winners of the tournament will have their names engraved on a nearly two-foot tall silver trophy and earn year-long bragging rights.
All 32 Resident Bowl spots have now been claimed.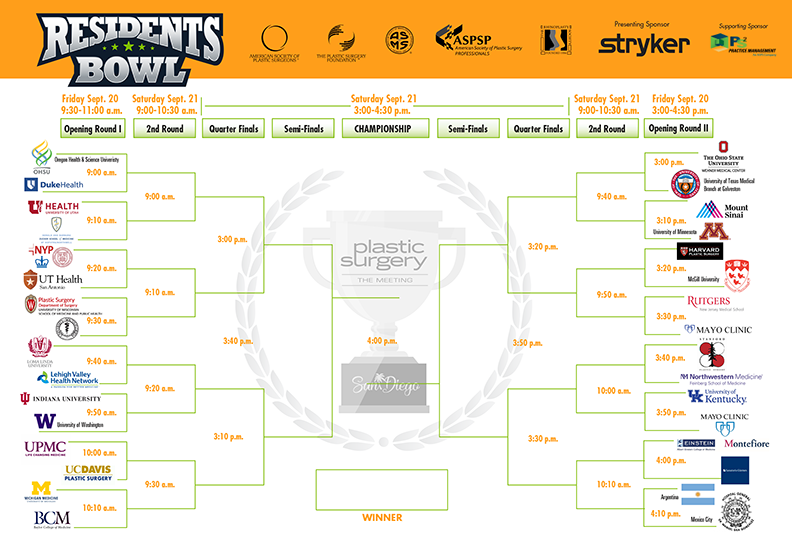 Please contact Kaori Toyokawa at ktoyokawa@plasticsurgery.org if you have any questions.
---
Previous Residents Bowl Winners
2018: UT Health San Antonio
Kelly Kafka, MD; Julie Kim, MD; Meg Rajan, MD; Victor Stams, MD
2017: University of Washington
Tamara Kemp, MD; Erin Miller, MD; H. Elise Min, MD; Eugene Oh, MD
2016: Southern Illinois University
Shawn Mendenhall, MD; Ryan Schmucker, MD; Chelsea C. Snider, MD
2015: Ohio State University
John Hulsen, MD; Ibrahim Khansa, MD; Joseph M eyerson, MD; Stephen Poteet, MD
2014: Ohio State University
Tyler Angelos, MD; Joseph Brown, MD; Ibrahim Khansa, MD; Cain Linville, MD
2013: University of Texas Southwestern
Huay-Zong Law, MD; Craig Lehrman, MD; Purushottam Nagarkar, MD; Jacob Unger, MD
2012: University of Texas Southwestern
Bridget Harrison, MD; Michael Lee, MD; Craig Lehrman, MD; Jacob Unger, MD
2011: Stanford University
Aaron Berger, MD, PhD; Ryan Endress, MD; Thomas Satterwhite, MD;