vPSTM: Here's How to Log In!
While PlasticSurgeryTheMeeting.com remains an information hub about all of the various events of the meeting, the actual sessions will be hosted on a separate web platform called EventMobi, and the full agenda exists on that site as well. Here's how to log in to the meeting platform, whenever you decide to join vPSTM:
System Access Requirements
The EventMobi platform will work on most modern browsers and mobile devices. It is recommended to use Chrome 14 and later, Safari 5.1 and later, Firefox 6 and later or Edge 40 and later. The Internet Explorer browser is NOT recommended.
This EventMobi FAQ article covers What Mobile Devices are Compatible.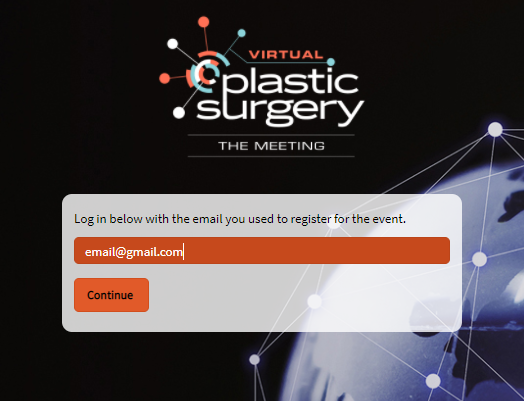 First Time Login
1. Login to the vPSTM 2020 platform by navigating to the following URL:
eventmobi.com/pstm20/
2. Enter the email you used to register for the event.
3. When validated, the system will ask you to set your password. Please record this password as you will use this to login throughout the event. You will be able to reset it, however, if necessary.
Problems Logging In?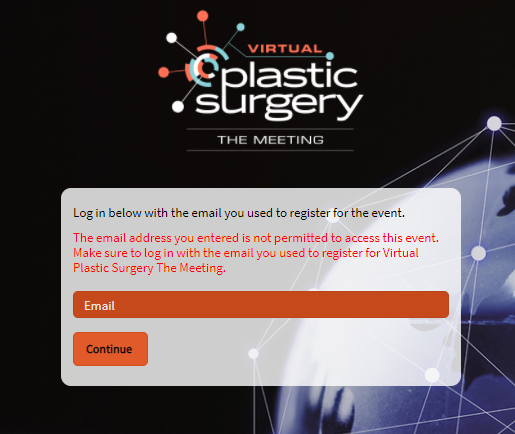 If you have issues logging in, here is what to do:
1. The System Does Not Recognize Your Email Address If the system does not recognize your email, text will appear alerting you that you have not entered an email address that is registered for the event.
If you cannot remember what email address you used to register for the event, please go to PlasticSurgery.org/RegEmail, login with your ASPS credentials, and retrieve your registration email address from that page.
2. The System Recognizes Your Email Address But You Do Not Recall Your Password If the system recognizes your email address and you are prompted to enter your password rather than to create a new one, your email address has been used in the past to participate in a virtual meeting on the Event Mobi platform. If you cannot remember what that password might be, please click on the Forgot Password link and the system will send you an email to reset your password.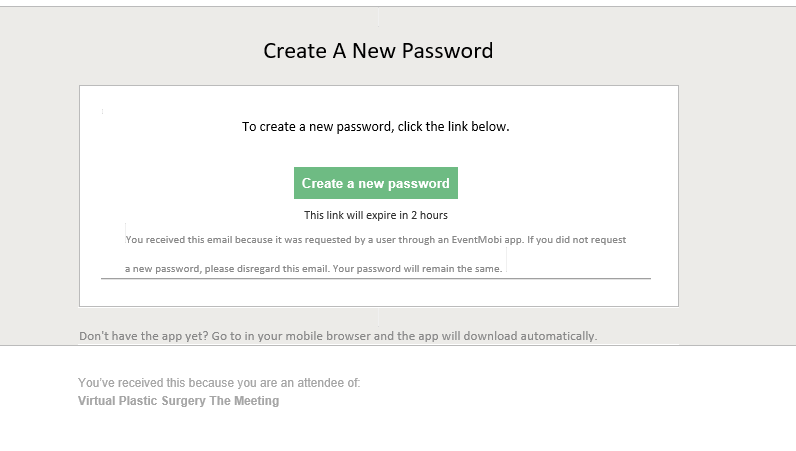 The reset password email will come from noreply@eventmobi.com and the subject will be Reset Your EventMobi Password.
The content of the email is depicted in the image.
Need More Help?
If you have login issues that these help steps do not solve, please contact the vPSTM Help Desk at ASPS.
Email: pstmsupport@plasticsurgery.org
Phone: (800) 766-4955 or +1 (847) 228-9900